Tell Congress to End Fiscal Insanity
Contact Congress now and urge them to end runaway spending.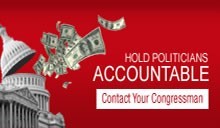 Politicians cannot claim to be against wasteful spending and a growing federal deficit while they continue to spend more than they make/take. Therefore Ending Spending is committed to holding Members of Congress accountable for their wasteful spending practices and exposing those in Congress who say one thing and do another.
Post Public Comments
Public Comments (2,267)
Oct 1st, 2015
Allen B. from West Chester, OH signed.
Aug 10th, 2015
Allen B. from West Chester, OH writes:
To our "Career Representatives: Immediately STOP what your doing, and eliminate all debt you've caused. Then RETIRE!!!
Mar 13th, 2015
Someone from Warrenton, VA signed.
Apr 13th, 2014
Someone from Macomb, IL writes:
Republicans have PERMANENTLY lost my vote, I'm SORRY I ever voted for you starting with Mr. Liar, Reagan. You all know how he lied to the American people about SS and Medicare, then stole the money to give to the Rich and Corporations. I can't believe you call yourselves "Christians!!!"
Apr 9th, 2014
Someone from Warrenton, VA signed.
Dec 21st, 2013
Rck M. from Colorado Springs, CO signed.
Dec 20th, 2013
Michael B. from Broomall, PA writes:
Spending more, lots more, than what is coming in, is not responsible or realistic. This is NOT something any citizen can do! So, when I look back, the realization is, I was VERY irresponsible as a youngster, teenager and even in my early/mid 20's. This is a sign of inexperience and immaturity!!! This CANNOT be good for the future if America!!!
Mar 25th, 2013
Arthur O. from Moravia, NY writes:
If you need help cutting spending call me
Dec 3rd, 2012
Mary T. from Welaka, FL signed.
Dec 3rd, 2012
Jo T. from Georgetown, DE writes:
Obama is ruining our country. He is the most evil man. I can't believe so many people are so ignorant. Of course Obama has 47 % of the people on hand outs. Soon the rest of us won't be able to pay up. What then?